A Travel World Map with Pins
I've always thought maps were a great decoration for your home.  Especially on the wall like Centsational Girl Kate's play room.  National Geographic also sells maps online in various sizes. Or as part of your every day decor. I've especially wanted a travel world map with pins to represent the places we've been ad set out to find some inspiration.

Photo by Polly Painting
Photo by Katey Nicosia
Since The Chef and I would like to travel together and I like to bring creative decorations into our home, I saw a great idea on Young House Love and instantly wanted to make one of my own.
John and Sherry have a map of the US where they put pins into locations they have traveled together.  I thought this would be fun to create and it can force us to take a trip when we see the number of pins is low. "Quick honey let's go to Cali so we can pin LA."  Not to mention it's an interesting conversation starter.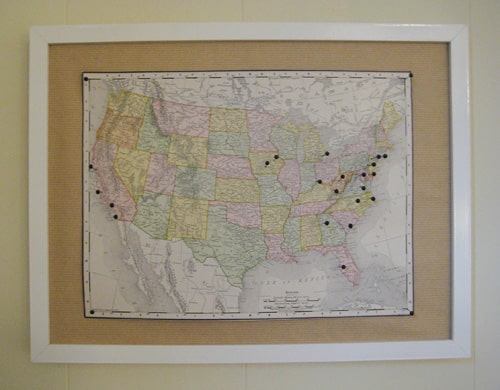 Photo by Young House Love
So I set out to find a frame, map, pins and a way to put it all together. I originally wanted to use a world map like the one at the top from National Geographic, but realized it might be too big to frame.  An ebay search yielded nothing that grabbed me but a quick trip to Borders got me exactly what I was picturing.  They have a natural colored world map for only $8.00.  But it turns out it is about 36×48 and I knew I'd never find a frame that large to get it to work how I wanted.
Locally we have an amazing art store.  A trip there for some other project supplies was the answer to my map needs.  They have this amazing paper that is of maps of different cities and they have a US one.  Perfect.  And at only $4 I was more than ecstatic to get this project going.
So then I set out to get a frame.  I thought a cork board would be good and even if I couldn't find one in the right size I knew I could make one.  Turns out Hobby Lobby had an awesome black framed corkboard at 50% off.
Too bad it was just a few inches short and cutting the map was out of the question.
So I headed out to make a cord board myself.  Michael's had just what I needed.  Frames at 40% off and rolled cork to put on myself.
I took the glass out of the frame and used the back piece that holds the photo and glass in to measure out a piece of cork.
Then I quickly painted plain old Elmer's glue across the whole back piece so I could put the cork on top of it.  I weighed it down with a heavy layer of old magazines and let it dry over night. Here is my finished do-it-yourself cork board.
Then I put on the map by pinning it in place with the map pins from the office store. And I put the pins into the places we've been together.  Sadly that's only 2 places right now.  We've got to get traveling.
Here are our two pins.  Chicago and Orlando.  Wow we need to get out more.
The map got hung in the kitchen above the
shelves
I put up the other day.
With this post I'm participating in:
Make Your Monday at Twice Remembered
Just Something I Whipped Up Monday at The Girl Creative